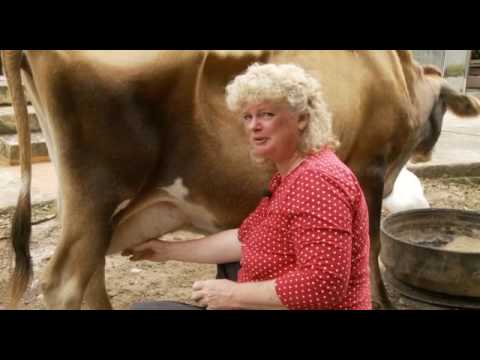 Okay, it's taken a while and we were expecting to release this title last year. We even had a few people ask for it for last year's Christmas, but the truth is we took too long to finish it. So now it's here, ready to go! Elisabeth Fekonia's Home Cheesemaking and All Things Dairy DVD has finally been released!
Elisabeth Fekonia lives on six acres near Mount Cooroy on Queensland's Sunshine Coast and over the last 15 years she has been teaching people how to make all sorts of dairy products from raw cow and goats milk. She has two milking cows and a number of assorted goats which all have different names like "Bambi" and "Lydia" and so on, and in this true DIY permaculture title she teaches you the basics of making your own dairy delights. Cheddar Cheese from raw cow's milk, a soft brie from goat's milk, cottage cheese, Ghee, Kefir, Sour Cream and Yoghurt are all taught in this entertaining DVD.
She even shows you how to milk a cow or goat as well as many small tips on keeping your animals healthy. Mineralisation of stock feed is an important ingredient in keeping you and your family healthy and Elisabeth shows you how to mix your own mineral blend for your dairy cow's diet. From milking the cow she takes you into her colourful home and into her kitchen and Elisabeth shows you how to make your own cheese without fancy implements – just simple tools that you can fashion yourself. My favourite was a stainless steel dogs bowl that she transformed into a new life as a cheese container!
If you really want to live an independent sustainable life – then Elisabeth is the real McCoy!
Elisabeth is a permaculture teacher who writes frequently for Australian lifestyle magazines as well as conducting frequent Cheese and Sour-bread making workshops in Queensland. She and her husband Frank have appeared on SBS-TV and frequently on Australian ABC Radio. You can order the DVD here!